Home > Puchase
In Ireland and the UK
The Accidental Pilgrim is published in Ireland by Lir/Hodder Headline Ireland, and should be widely available there. It's also available in an increasing number of UK bookshops (last spotted at the Ottakars in Stansted Airport, for example), but it can also be ordered easily from any bookshop in the UK (the distributor is Bookpoint, and the ISBN 0340832282).
In Santa Fe, NM
I keep the Travel Bug on Paseo de Peralta stocked with copies - let me know if they're out of them, and I'll drop some more in. And you can enjoy a coffee while you're there.
Online
If you're thinking of ordering from Amazon.co.uk or Powell's, it would be great if you could follow the links to from this site - that way, I get an extra kickback on the sale (around 5%), and it doesn't cost you any more.
Ireland and the UK:
- Amazon.co.uk
- Eason
- Hodder Headline
USA:
- Powell's
- Amazon.com
Canada:
- Amazon.ca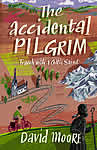 ISBN: 0340832282
Trade Paperback - Hodder Headline